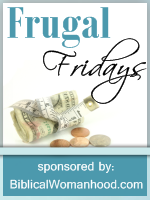 With the cost of living going up, I've been searching for ways to stretch my husband's hard earned paycheck as far as I possibly can. Years ago, I used to refund and use coupons, and it got us through some really tough times. Sadly, refunding became more difficult as companies cracked down on people committing fraud. It effected everyone, though, and not just the ones that were being fraudulent.
We had to change our shopping habits, going with store and generic brands, but our shopping bill was still higher. Then Walmart and Sam's came into our area, and it eased the cost some. I wasn't using coupons so much any more, because most things were for prepared foods and name brand items that were still more expensive than the store brands - even with coupons. I would get lucky and find an occasional refund, but with everyone wanting the original receipts, it wasn't helping the budget like it used to.
Of course, times do change :) In fact, I think my shopping sprees these days are even better than those of the refunding days. Don't believe it? Here's proof:
Yesterday, I needed to take my daughter to have her stitches out, so I made the trip worthwhile and stopped at Rite Aid. They have a nice one check rebate offer going on right now, and I picked up a few items.
I purchased:
4 boxes of Kelloggs Cereal
1 box Nutrigrain Bars
75 oz. Electrasol
Skin Appetit
Rite Aid Pantiliners
Scotch Packing Tape
Salon Selectives Shampoo
Bic Soleil Razor
Hershey's Bliss
With coupons and rebates, my grand total for the above items ended up being: $
4.62
!
Then we went to CVS for even more great savings.
We purchased
Dove Shampoo
Dove Conditioner
2 Dove Body Wash
Dove Antiperspirant
2 Mennen Speed Sticks
3 bags Russel Stover Premium Chocolate
2 Oral B Cross Action Toothbrushes
Mabelline Superstay Lipcolor

After using coupons and receiving back ECB's, everything cost $
5.40
(including sales tax).
Our haul ended up costing $10.02 and that's because I messed up and purchased one too many of the Dove for my $5 ECB for purchasing $15 worth of Dove items. Still, I really can't complain!!